AUSTIN, TX REACH IN COOLER REPAIR 
16238 Ranch Rd. 620 N. Austin, TX
Family Owned & Operated in Austin Over 15 Years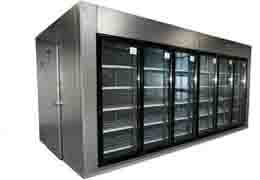 Reach in coolers in Austin are hard working machines that need regular service to keep operating at optimal performance. Tri Point Refrigeration, Inc. specializes in fixing all brands and models restaurant and commercial reach in coolers and refrigeration.
Reach in Cooler Repair Austin
If your restaurant or commercial reach in cooler doesn't cool efficiently, the fan doesn't work or you have any other reach in cooler problems, simply call us. Tri Point Refrigeration, Inc. is available 24/7 for any reach in cooler repair in Austin, TX and surrounding areas.
Reach in Cooler Repair Austin
When your company depends upon it's refrigeration system, reach in cooler, cold storage units, or other system, our repair solutions will save you time and money. BEFORE you spend money to replace, give us a call or send us an email to speak with a customer service representative.
Buy a New Reach In Freezer
L-Series Bottom Mount:
Our Services:
Refrigeration Repair
Refrigeration Sales
Refrigeration Installation
Refrigeration Maintenance
Ice Machine Repair
Ice Machine Sales
Ice Machine Installation
Ice Machine Leasing
Ice Machine Maintenance
Walk in Freezer Repair
Walk in Freezer Sales
Walk in Freezer Design
Walk in Freezer Installation
Walk in Freezer Maintenance
Commercial HVAC Repair
Commercial HVAC Sales
Commercial HVAC Design
Commercial HVAC Maintenance
Commercial HVAC New Construction
Energy Management
TriPoint Refrigeration, Inc. is a Full Service Commercial Refrigeration Service Company Serving the Following Areas:
Austin, TX
Round Rock, TX
Georgetown, TX
Pflugerville, TX
Cedar Park, TX
And Most Other Surrounding Cities...
"One of the Best Refrigeration Repair Companies I have ever worked with"
~ Bo Bryan